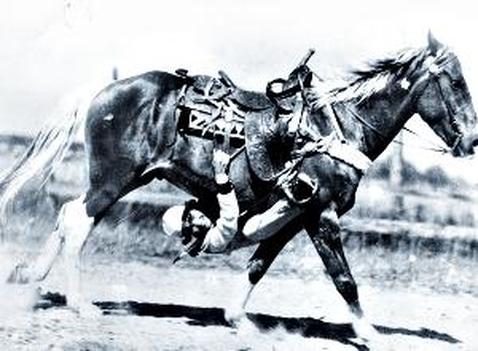 In the 1930s, Eleanor McClintock Williams was a champion trick and bronc rider, traveling in Wild West shows and performing on the high trapeze for Ringling Brothers Barnum & Bailey Circus.

She was inducted into the Cowgirl Hall of Fame in 1986 because of her contributions to rodeo and Western life.

Williams, the daughter of wealthy artists, spent her childhood in Pittsburgh. She met her first husband, a rodeo cowboy named Walter McClintock, after watching him compete at Madison Square Garden in 1928.

They eloped two weeks later and joined a Wild West show heading for Chile. The show had a short run because the manager ran off with the gate money. They had to return to the U.S. on a Japanese cargo ship.

The couple had dreams of owning a ranch and in the 1930s they bought 300 acres in New Mexico, for $2 an acre.

They established their ranch headquarters and named their spread the Rising Sun Ranch. The ranch served as a dude ranch for a number of years and in the 1940s was re-named the Williams Ranch.

Her marriage to McClintock ended after six years in 1934. They had one child together.

Williams refused to rely on her wealthy parents and paid off the ranch without their help.

In 1938 she wrote in a letter. "This year has been a nightmare of financial worry," she wrote. "I finally got desperate this spring and took a job on a big Wild West show that opened in Chicago in April, riding bucking horses. The show is headed by Col. Tim McCoy, who made a minor name for himself in moving pictures and whom I worked under on the Ringling Show."

By the mid-1930s, women's relay racing was gone from most rodeos. Trick riding had become a contract event for entertainment instead of competition.

The Madison Square Garden Rodeo was the first to cut women's bronc riding, and financial problems during the Great Depression made it hard for the event to continue in smaller rodeos throughout the country. Bronc riding for women has never returned to the traditional rodeo circuit.

In 1940, Eleanor married Frank Williams. They raised a family of four and ranched together until their deaths in the 1970s.

Eleanor went on to run for the New Mexico Senate, became a published author and a recognized artist.