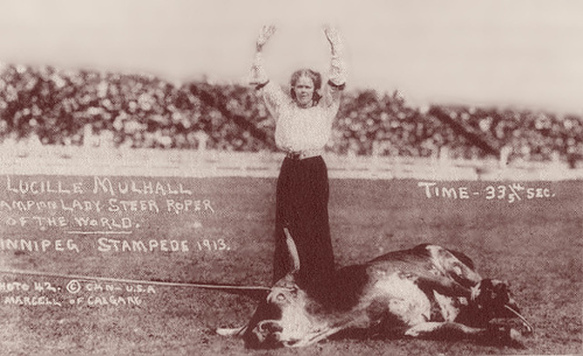 Lucille Mulhall began a show of rodeo skill—running, roping, and tying steers— that put her competition to shame. Lucille was the best known Western performer of her era and was the first American "cowgirl" long before the term was widely used. She learned to ride and rope on her family's Oklahoma ranch, and began her career performing in her father's Wild West show and later becoming one of the first and most accomplished riding and roping champions. Competing with, and frequently beating, male competitors in steer roping events, Lucille helped make women an integral part of rodeo.


Lucy herself was mean with a lasso and a crack shot, able to rope eight men riding abreast, rope, throw, and tie a steer in twenty-eight and a half seconds, and shoot a coyote from 500 yards, earning her not only the respect of her rodeo peers but necessitating the creation of a new title, which she proudly carried: First Champion Lady Steer Roper of the World.

Tickled by the girl's feisty spirit, President Roosevelt approached young Lucy after the show, telling her with a wink and a pat that if she could lasso a wolf he'd invite her to his inaugural parade. The fourteen-year-old girl nodded, mounted and disappeared in the wild stretch of Oklahoma prairie, returning three hours later, dead wolf in tow.